Rate this article and enter to win
Do you see yourself as creative? Maybe you don't play a musical instrument and didn't wow in art class. Perhaps you see your creativity in your Instagram posts but not in your history paper or the way you fixed your broken bike. Maybe you just like to think about things practically and you don't see the value in expressing your creativity. If so, you may be sidelining a fundamental aspect of yourself. We are all wired to create, and we can approach any situation in life with a creative spirit. We all have the capacity to dream, explore, discover, build, ask questions, and seek answers. 
"Expressing myself [creatively] makes me feel more centered and less anxious."
—Abigail, sophomore, Lake Wales, Florida
Recognizing ourselves as creators and fostering creativity in our everyday existence brings us to life and connects us to who we are. Anyone can make a conscious decision to live this way. Creativity is associated with many positive traits and behaviors.
Creativity expands our minds and self-confidence
When we engage in creative activities, we tend to become absorbed in what we're making, entering a kind of flow state that can induce a sense of control, enjoyment, and accomplishment.
Creative work can also act as a positive distraction, directing our attention to an enjoyable activity and potentially broadening it in a way that facilitates new ways of thinking.
Creative expression opens us up to who we are and our unique set of qualities, experiences, and contradictions.
People who engage in a creative lifestyle tend to be more open-minded, imaginative, intellectually curious, energetic, outgoing, persistent, and internally motivated by their activity. They also report a greater sense of well-being. One study found that inspiration leads to increased optimism, belief in one's capabilities, self-determination, and self-esteem.
"I play and write lots of music, and it's cathartic. It doesn't necessarily relax me, but it makes my emotions strong and potent so I don't have to stuff them in the back of mind, which feels good."
—Ramona, sophomore, Arizona
Creativity helps us cope and heal
Creativity truly carries healing power. Creative work can help us make meaning out of challenges and suffering that may feel senseless. This seems to contribute to psychological growth after trauma, according to research. Creative work is also a sign that growth or healing has occurred.
Paul Klee, the Swiss painter, suffered from a rare autoimmune disease that crippled his hands. In the year after his diagnosis, Klee created more than 1,200 works, including some of his largest, most original pieces. "I create—in order not to cry," he said.
Highly creative people do certain things differently. Here are 10 things you can learn from them.

1. Allow yourself imaginative play
Go ahead—dance, paint, explore a new place, be silly, and have fun. You might just find that it gets your creative juices flowing.
2. Be passionate about your creative process
Come up with goals that emphasize learning (like experimenting with sound) rather than mastery (like winning a Grammy). Visualize the desired goal, then the possible obstacles. This helps identify useful strategies—like grit, optimism, passion, and hope.
"When I'm either building or designing something, it lets my brain exercise both its creative side as well as its problem-solving side. I find a mild challenge when doing something is far more engaging and appealing than if it were relatively straightforward. There's a fine balance between mildly challenging and stressfully complex that makes my brain relax and enjoy the work as opposed to seeing it as work."
—Austin, senior, Iowa City, Iowa
3. Make time for solitude
Set aside a special time and place in your life for creative thinking and work, such as waking up early to write or meditating before a painting session.
"I find that creativity helps me get in touch with the emotions I suppress through means that don't make me feel vulnerable. When I write, or sing, or draw, I can get out the feelings I would never share with someone in a way that doesn't require me to articulate them into exact words. It also can be private; there's nothing requiring me to share those things with others."
—Hale, senior, St. Paul, Minnesota
4. Honor the emotional messiness that leads to intuition
Insights (those "Aha!" moments) are like gifts from the unconscious mind. Emerging research suggests that bringing together positive and negative emotions (emotional ambivalence) can help facilitate insights. Think of the bittersweet excitement of graduation. Strive to embrace both your positive and negative feelings instead of trying to shut out the negative.
5. Be open to experience
The more an experience leads you to conceive of new possibilities for your life, the more you may grow. Try a new creative outlet or a totally different medium of expression. If you're a writer, learn to play a musical instrument; if you're a dancer, paint. Take a new route home, or seek out people with different values.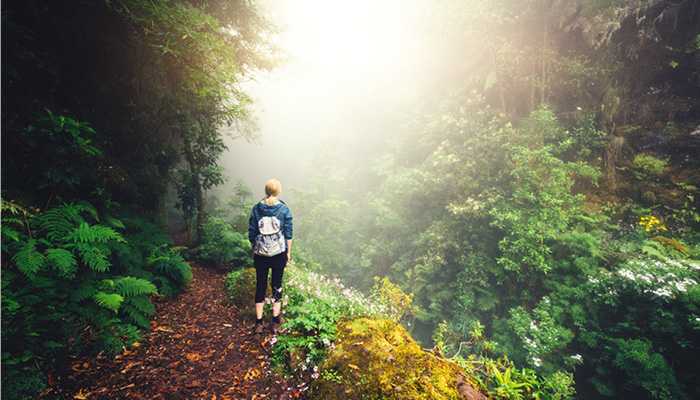 6. Cultivate mindfulness
Learn to observe and pay attention to your surroundings (e.g., while you're walking through the hallways at school or brushing your teeth) to cultivate everyday mindfulness. Sitting silently and focusing on the breath for five minutes a day is another great way to start meditating.
7. Let yourself daydream
When working on a creative project or assignment, try taking a five-minute daydreaming break every hour or so. Engage in a simple activity like walking, doodling, or cleaning. Consider this your creative incubation period, and see if you feel a renewed creative energy when you get back to work.
8. Cherish your sensitivity (even the painful parts)
Rather than avoiding or denying hardships and challenges, choose to live with that intense sensitivity. This can make life feel more difficult, but it also brings great rewards.
"Creativity is the only outlet I really have. It's a way to sort out and confront your problems while making something you're proud of."
—Kate, senior, Santa Barbara, California
9. Turn adversity into advantage
Regularly writing for 15–20 minutes about a topic that triggers strong feelings in you is thought to help us better understand and express positive and negative emotions. This type of writing can improve psychological and physical health and some cognitive functions, such as working memory.
"Drawing, dancing, and writing [are my] break from reality. It's also a good way for me to show what's going on inside my head. Writing helps me sort out my emotions and vent. Dancing is stress relieving. Drawing is challenging but very fulfilling."
—Keisha, senior, Nevada
10. Think differently, take risks, be prepared to fail
Cultivate a spirit of everyday nonconformity by seeking out new experiences (like studying abroad or taking a road trip with friends), asking off-the-wall questions, and engaging with numerous solutions to a problem. Turn your fear of rejection into a more constructive emotion, like anger or pride, which can fuel creative work.
"Expressing myself creatively allows me to feel better about myself and can help me feel like I'm the person I want to be."
—Caden, junior, Texas
Get help or find out more
Article sources
Kaufman, S. B., & Gregoire, C. (2015). Wired to create: Unraveling the mysteries of the creative mind. New York, NY: Perigee. Adapted by Lucy Berrington in consultation with the authors.